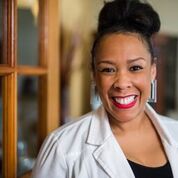 Dr. Marvette Thomas has been operating The Dental Spa in the Dillingham Square shopping center for the past 16 years. While most people view going to the dentist as a necessary evil, Thomas runs her office with a kinder and gentler approach. By following her own dental spa methods, she works to overcome barriers that make people uncomfortable with going to the dentist. According to Thomas, the three major reasons that people avoid going to the dentist are related to fear, time and cost. The Dental Spa operates with the goal of overcoming those barriers.
In 2018, Thomas had a banner year. She received recognition as the "Best Dentist in Prince William County" from Inside Nova and received the Human Rights Award from the Prince William Human Rights Commission as well as the Congressional Record Award from Congressman Gerry Connolly (D-VA). She has
been honored by the Coalition of 100 Black Women, which now offers a four-year scholarship in her name called the Dr. Marvette Thomas Economic Empowerment Award. Lastly, she was awarded the Bigger and Better Business Award by the Phi Beta Sigma Fraternity.
Prince William Living spoke with Thomas to find out more about her award-winning practice.

What to Expect at The Dental Spa
The office feels different to patients immediately upon entering. The typical clinical sights, sounds and smells of a traditional dental office are not immediately apparent. Instead, people are greeted with warm colors, pleasant music and a spa bar with a selection of teas. In the treatment areas, there are blankets,
chair massagers, televisions and earbuds to make people more comfortable. Each element in the waiting area and treatment spaces is intentional. Thomas explained that the idea is to replace the old sensory perceptions, even the sensory memory, that cause many people anxiety.
Thomas said that while the physical space is important, it is only one facet to overcoming people's fears. According to Thomas, her staff members also play a role in the practice's success. "When we hire new people, we are very particular," she said. "We look for those who not only have a particular skill set but
who are also service-oriented. Collectively, all of us, the dentists, the schedulers, hygienists and assistants, must all share the same patient-first values."
New patients are invited to come for a free consultation and feel the difference for themselves. At the consult, providing information is key to overcoming some of their anxiety. Patients receive information about the condition of their teeth and can develop treatment plans that are best for them. The Dental Spa has billing specialists who work with insurance companies to determine which services will be covered and assist customers in making financial arrangements. In the event third-party financing is needed, Thomas said, The Dental Spa's longstanding relationships with their preferred healthcare financing companies
have allowed customers to receive favorable rates.
Sedation Dentistry and Teeth in a Day
"Sedation dentistry" is a popular term often heard in radio and television commercials, and it covers both oral and intravenous means of achieving conscious sedation. It can be an appealing concept for patients who have high anxiety and /or need to have a substantial amount of dental work done at one time and for
others who have difficulty finding time for appointments.
Traditionally, conscious sedation was achieved by administering drugs through an IV line to sedate the patient. In oral conscious sedation, patients are awake, and they are given medication under their tongues. Thomas explained that although the patients are awake, they don't remember much about the appointment due to the anterograde amnesiac properties of the benzodiazepines used. She added that oral conscious sedation is more popular than other methods at this time.
The state of Virginia is very strict about the requirements needed to be licensed for sedation. Offices are equipped with additional medical equipment, such as EKG monitors, and are better prepared for emergencies, if one should arise. Thomas is a fellow of the Dental Organization for Conscious Sedation Education (DOCS). To earn that recognition, she has published articles on the topic using her cases, completed extensive clinical hours and participated in case studies. While all offices that practice sedation dentistry are required to have the same additional equipment, not all sedation dentists are fellows.
Teeth in a Day
Another new concept in dentistry is the ability to get new teeth in a day. In previous generations, getting implants or dentures was a lengthy process that required substantial recovery time. Today, with the newest developments in teeth implantation, people can have teeth pulled while under sedation and awaken to an aesthetically pleasing smile and fully functional teeth in the same day. This process is also called the "All on 4 Dental Implants" procedure. It is a treatment for patients with no teeth or badly broken teeth or those with severe gum disease that are in need of a final resolution. The best part of this procedure is that it can be completed in one day. Thomas added, "The new innovations in dental care allow people to leave the office with smiles in place and feeling restored in a sense. It helps people feel more confident." Ultimately, it also restores their oral health while improving their overall health.
Over the years, Thomas has worked hard to positively impact others' health through her practice and humanitarian efforts. She has worked with and trained a number of dentists who have taken on her philosophy of kinder, more gentle dentistry. As each patient is treated in her practice, that may be her
true legacy—improving health and changing attitudes about dentistry.
["source=princewilliamliving"]