Sri Lanka's president has vowed to overhaul state security after several bomb blasts on Sunday killed 359 people and wounded about 500.
On Tuesday, Maithripala Sirisena said warnings had not been shared with him and promised "stern action".
The country's Prime Minister Ranil Wickremesinghe said the Islamic State (IS) group may be linked to the blasts.
Funerals are continuing across the country as people try to process last Sunday's attacks.
IS has claimed the attack, although it did not provide direct evidence of its involvement.
Police say they have identified eight out of nine attackers, with no foreigners among them.
"Most of them are well educated and come from maybe middle or upper middle class," Deputy Defence Minister Ruwan Wijewardene said on Wednesday. "They are financially quite independent and their families are quite stable financially.
"We believe that one of the suicide bombers studied in the UK and then later on did his post-graduate in Australia before coming back to settle in Sri Lanka."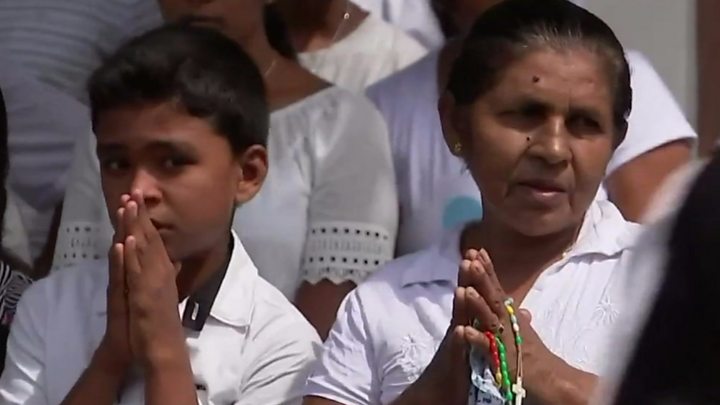 In a televised address late on Tuesday, President Sirisena said he would completely restructure the police and security forces in coming weeks.
"The security officials who got the intelligence report from a foreign nation did not share it with me. I have decided to take stern action against these officials."
The BBC World Service's South Asia editor Ethirajan Anbarasan said it was an embarrassing admission by President Sirisena that security officials did not share with him the intelligence report warning about the attacks.
With IS claiming responsibility for the attacks, Sri Lanka is now entering uncharted territory, our correspondent explains.
Authorities say they are looking into possible links between the locals who carried out the suicide bombings and the global jihadist group.
---
'Grief is all around you'
Rajini Vaidyanathan, BBC News South Asia correspondent, reports from Batticaloa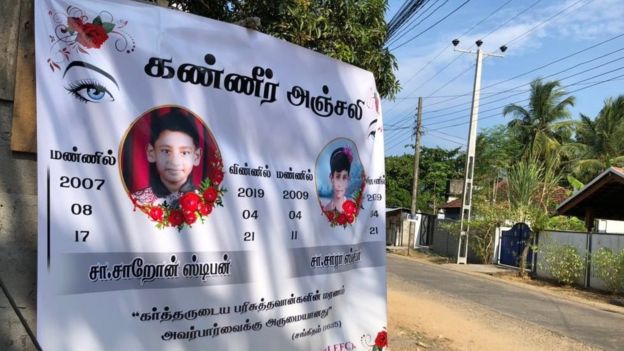 In the town of Batticaloa, the grief is all around you. Posters of those who died in Sunday's blast hang from every corner. Photos show the young children smiling in party dresses and smart shirts, and written next to their images are their birthdays, as well as the day they died.
They'd been attending Sunday school at the Zion Church, as they did every week. After the service some of them went outside for snacks, a short while later a bomb exploded.
A decade after the civil war ended this community is once again burying its dead. Wreaths of bright pink flowers were left at the freshly dug graves of some of the children. They'd barely been dug – just like the lives lost had barely been lived.
This scenic stretch of the country's east coast has become accustomed to loss. Countless died in the country's civil war. The 2004 tsunami claimed thousands more. Now it's trying to process this latest wave of terror.
["source=bbc"]