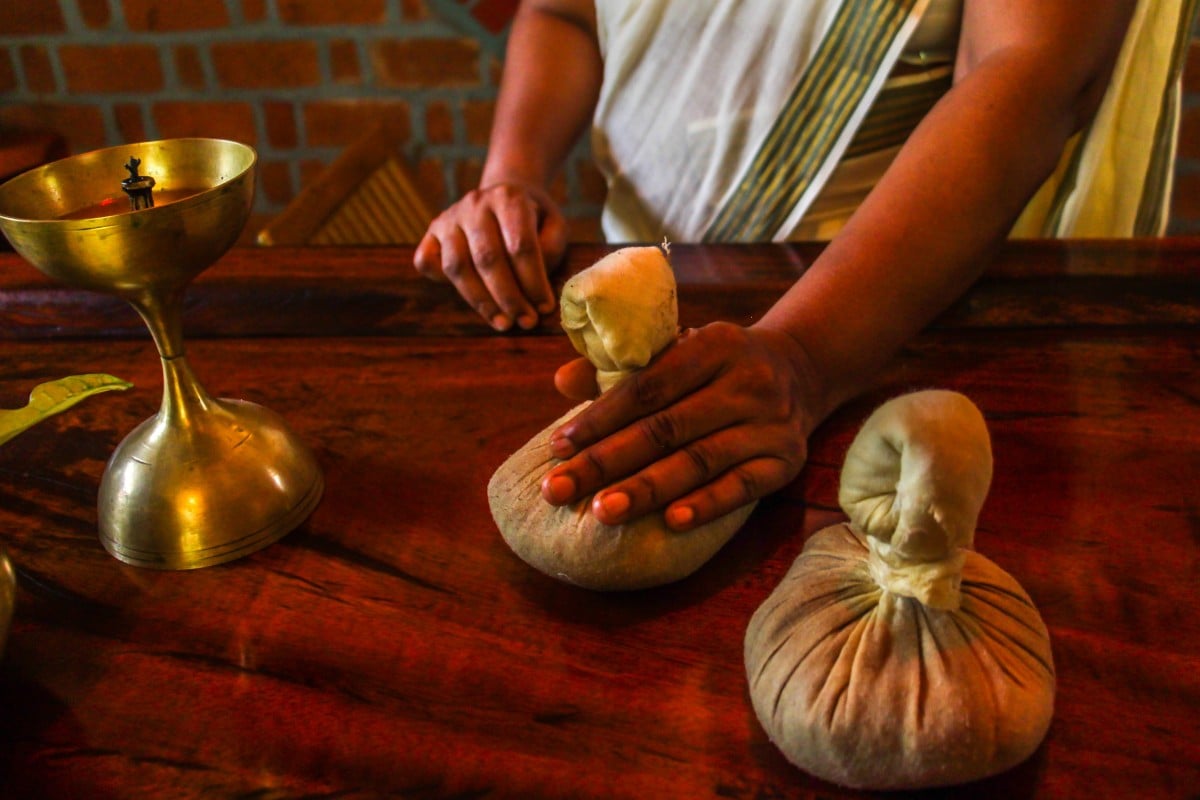 The Ayurvedic treatment package at Kairali in Kerala, India includes massages, yoga, vegetarian meals and meditation. Photo: Rathina Sankari
I felt like a kid playing in a puddle, just that it wasn't a puddle of water, but oil. I tried to get up but skidded and slid on the wooden table on which I was lying.
My therapist, 47-year-old Satyabhama, extended her arms to steady me. I was in Kairali The Ayurvedic Healing Village in Palakkad, a town in the verdant, southern Indian state of Kerala.
Ayurveda translates as "the science of life" and its therapies are based on natural principles. Maintaining a balance of the three doshas, or vital forces of life – vata(space and air), pitta (fire and water) and kapha (earth and water) – is the crux of Ayurveda, which is said to be about 5,000 years old and has its roots in India.
I had long been contemplating a visit to Kerala to relax and rejuvenate through
. I found the need to recuperate from stress, age and lifestyle-related issues. After a 30-minute consultation with Dr Chitra Menon, the in-house Ayurvedic doctor, I had a chart in hand, listing the therapies that I would undergo. The initial diagnosis found that kapha was the predominant dosha in my system.
That afternoon, Satyabhama, clad in the traditional Kerala garb, a white settu-mundu sari, started with a gentle head massage that made me drowsy. Then I lay on a table while she and Sarita worked in unison on my front and back with firm strokes, using warm herbal oils, for 30 minutes.
Menon later tells me they choose the oils based on an individual's nature or prakruti. In Ayurveda, this is a person's physical and mental constitution that comes into existence when the egg is fertilised in the womb.
Covered in oil from head to toe, I felt very relaxed during the abhyangam, or massage. Abhyangam is practised in every Hindu household on the festive day of Diwali. Elders in my family would anoint one's entire body with oil, and follow this with a warm bath at dawn. Menon tells me we should do this every day. It stimulates circulation, relieves aching joints, balances the doshas and improves general well-being.
After the massage, Satyabhama led me to a room housing a few wooden boxes that looked like a guillotine. I was made to sit on a stool inside one with only my head protruding. Steam was pumped into the chamber and I soon started to sweat. That night, I slept like a baby.
The ancient Ayurvedic texts are still revered today. They describe treatments to be administered to individuals under different conditions, the balance of the three doshas, diet, and daily and seasonal regimens.
One such treatment is the kadikizhi, a massage with herbs used to alleviate joint and muscle pain. Therapists Devyani and Aarti worked on my entire body.
In her book Ayurveda Secrets of Healing, Ayurveda expert Maya Tiwari says this type of massage is "a holy alliance of nine intrinsic qualities carried by Ayurvedic herbs and substances deeply into the tissues through the skin … [which ] reopens the channels through which information and energy flow".
Listening to the rhythmic cascade of a waterfall outside my room and soothing Indian classical music inside, I accepted the pounding of hot linen bags filled with medicated herbs on my body. The pair worked in perfect synchronisation, starting with my hands, and moving to my torso, belly, legs and back. Soon I started to sweat – a process that helps reduce kapha, aid weight loss and relieve skin and neurological ailments.
My days in Kairali were interspersed with
yoga, meditation, healthy meals and treatments
I had never experienced before – including the shirodhara, in which oil is dripped onto the forehead. This is meant to bring the three doshas into balance and sharpen the mind.
After a body massage, my eyes were covered and a large, broad container with a small opening in the bottom called a dhara chatti was hung above my head. Some 1.5 litres of medicated oil was poured into the chatti and it began to drip slowly onto the centre of my forehead. It was a calm and blissful experience. I fell into a lull and didn't want to awaken.
From tantric sex to dream yoga: Tibetan yoga secrets revealed
By the end of my stay in Kairali, I noticed some visible changes. I had enjoyed undisturbed sleep, my dull and dry skin had become soft and smooth, and I had developed a good appetite.
I decided to ditch white processed sugar and turn to healthier options such as palm sugar. I stopped using commercial soap in favour of ground green gram or mung bean flour, which is not only chemical free, but also environmentally friendly.
Simple lifestyle changes such as having regular meals, going to bed on time and practising yoga have become an integral part of my daily life.
"Sharirendriya sattwa atma samyogo ayuhu" is a Sanskrit verse from the teachings of Ayurveda. It translates as, "Balanced and harmonious functioning of body, senses, heart and soul is true life". It is a simple life lesson for holistic well-being, my souvenir from Kairali.
Kairali's preventive and regenerative package for three nights/four days costs 30,480 rupees (US$443) for single occupancy, 46,800 rupees for double, including three vegetarian meals a day, one abhyangam massage per person per day with steam bath, yoga and meditation sessions, lectures on Ayurveda and yoga (once a week) and an Ayurvedic cooking demonstration (once a week).
["source=scmp"]