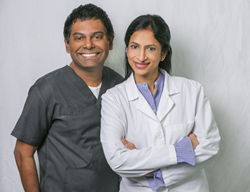 NEW YORK— Patient M came to Esthetix Dental Spa when she was 23 or 24 years old. She was missing some teeth in the front and, because of this, her teeth had moved apart leaving gaps between her teeth.
Multiple options were considered for creating Patient M's smile. Putting a porcelain veneer would not work as this would make Patient M's teeth too big and not proportional.
Using multi-specialty dentistry was the the only real option in this case. Thanks to Dr. Philomin and Dr. Divya, with their highly skilled and talented team of multi-specialists, Esthetix Dental Spa was able to move Patient M's teeth outward and inward where they belonged without any additional loss of teeth.
The process took almost 2 years. Pt underwent Invisalign teeth aligners for a while and then shifted to traditional braces because Invisalign couldn't give the desired result. While wearing braces, space was created to place the implants for her congenitally missing lateral incisors. To further help achieve her ideal perfect smile some gum contouring and cosmetic dentistry was performed.
Patient M had to wear braces for nearly two years before getting the implants but it was a beautiful result.
End result: A Beautiful smile for Patient M just in time before her wedding. A smile that will last a lifetime that she will be happy with and a proud team at Esthetix Dental Spa in New York City, changing lives one smile at a time.
Esthetix Dental Spa – All the 21st Century Dental Techniques Here For You
About Esthetix Dental Spa: Arvind Philomin, DDS uses state-of-the-art dental technology and equipment to provide exemplary care to every patient in the 10471 area and nearby. Patients at Esthetix Dental Spa can feel confident about the work being done and their new, beautiful smiles. Patients living in Manhattan, Washington Heights, Riverdale and the Bronx should look to Esthetix Dental Spa.
["source=benzinga"]